How many of you remember the TV show,
Designing Women
? It ran on CBS between 1986 - 1993 - hard to believe more than 30 years ago!
I loved the show. I thought the show was so much fun to watch with these four pretty, very outspoken women so stunningly dressed... it was so befitting of the times really: the excesses of the '80s and the dot.com surge of the '90s. I was working in corporate America at the time, so I coveted their beautiful wardrobes of brilliant jewel tones and big shoulders.
Not too long ago, I was channel surfing and came across a rerun of the show. I was actually a little stunned to revisit it. I couldn't get over how over the top their styles were. I didn't remember feeling that way about them when I originally watched the show. Did they really wear their hair so, well, big? Were their clothes really that bold? At the time they seemed so typical and in style.
That's the point. Styles come and go. For that era, their style was just right - so it was emulated and copied. It worked. It was how people dressed and how they decorated their homes.
A lot of our McMansions, particularly in Lake Forest, were built during that era. Homes often reflect the times and those homes do as well with their high ceilings, large rooms, brilliant colors, big furniture, etc. Sometimes when I tour a home from that vintage, I wonder if Sugarbakers were the decorators. Ha!
One of the challenges of this work, is helping sellers understand that what works for them, doesn't necessarily work for the buyers of today. While there is nothing wrong with their style, it's just not what the buyers want.
Styles comes and go -- today what seems to be in vogue are grey hues, sleek lines and minimalist furniture with a high-tech look. That beautiful oil painting over the fireplace has been replaced with a big screen TV.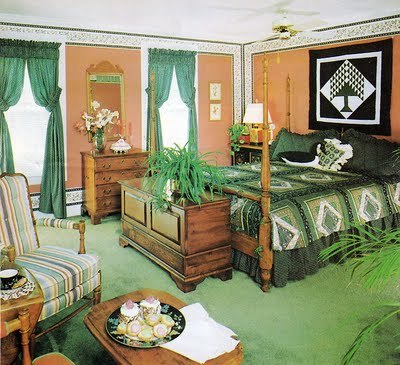 Now
Of course, more dated decorating can be modified to reflect current trends and styles. So, this is the conversation I find myself in with so many sellers.
They ask me, "Why can't the buyers just decorate it the way they want?"
Sure, buyers can make the house fit their style.
And I do understand how they feel. I don't have any grey rooms in my house -- I love my bold wallpapers, classic antique furniture and Persian carpets.... that's the style I like!
But then again, I'm not selling my house.
If a buyer can choose between two homes where one is neutral or more typical of today's style, and the other more stylized to another era, the buyers will tend to purchase the house that will require less effort and expense to decorate.
There is nothing wrong with your home -- it's a great home and it has YOUR style. It's exactly the style YOU want it. It reflects the way YOU want to live.
BUT -- keep in mind, you don't want to LIVE in this home anymore. You want someone else to make it their home. That means, it would sure help if your home reflected their needs and styles.
Anything you can do to make the house more neutral can only help! As disheartening as it may be, consider removing your style and turning your home into something the next buyer might want.
Styles come and go...
After all, I haven't worn any clothes with big shoulders for a long time!